At Simpson Cabinetry our kitchens speak for themselves. Whether you come to us with a kitchen plan already designed by an architect, builder, or interior designer, or with an idea drawn on a paper napkin, our team of CAD design specialists will work with you to design and finalize your kitchen space to best suit your needs and dreams.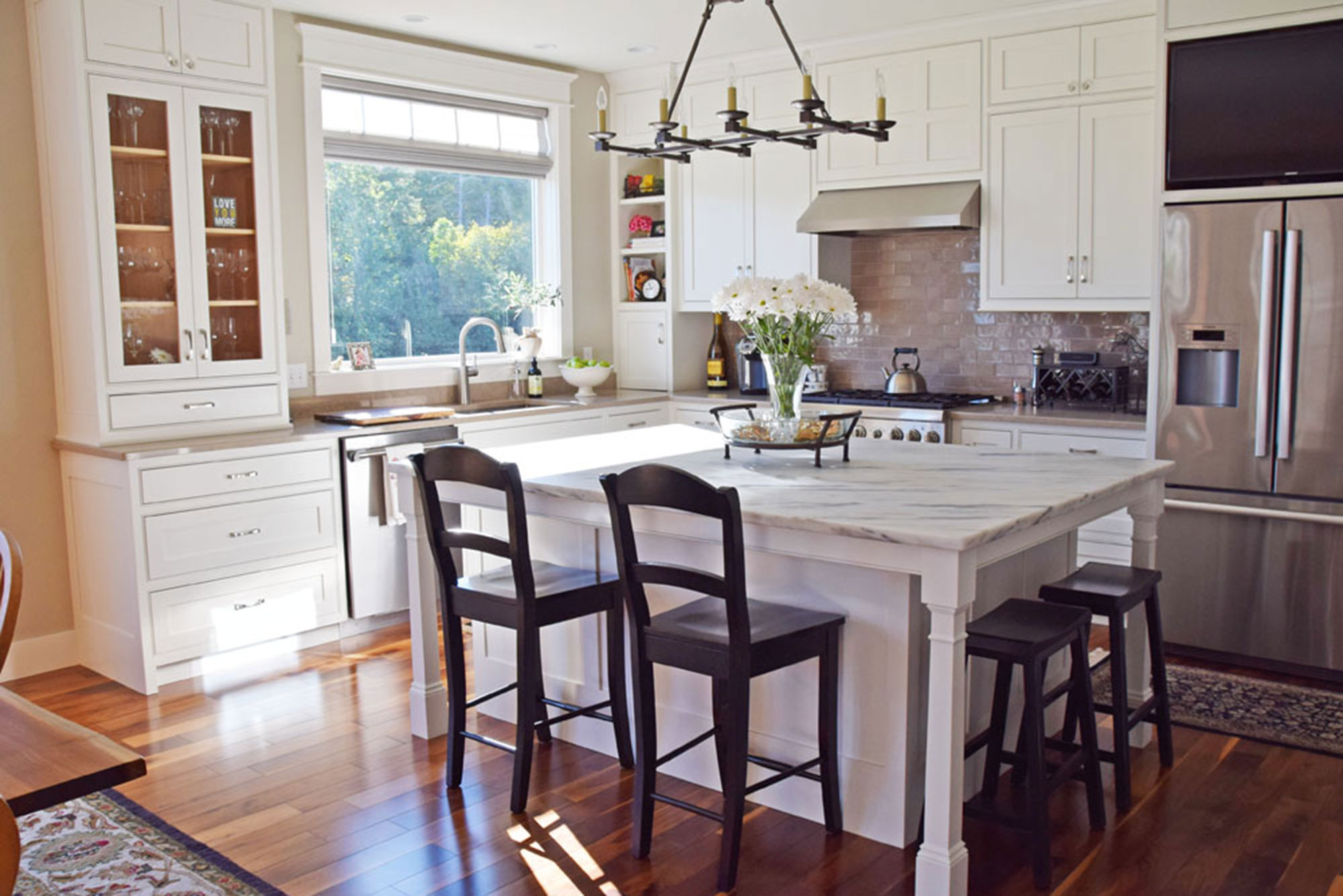 Named the "Best Kitchen" by the Home Builders and Remodelers Association, this extremely beautiful and crisply clean white kitchen took home the gold! More Pictures
Featuring slab fronts and match grain this walnut kitchen is stunningly beautiful More Pictures
The combination of pure white with rich mahogany at the island make both pieces pop. Enhanced features include custom corner drawers, spice pullouts, and varying height cabinets for function and style. More Pictures
Tasked with creating a stunning kitchen for a small urban condo, this project hit the mark. Using horizontal match-grain slab fronts make this a stunning focal point of the small home. More Pictures
Large island and lit baseboards make this a unique and dream kitchen for generations.
More Pictures
Clean lines and light tone make for a stunning project at the late. More Pictures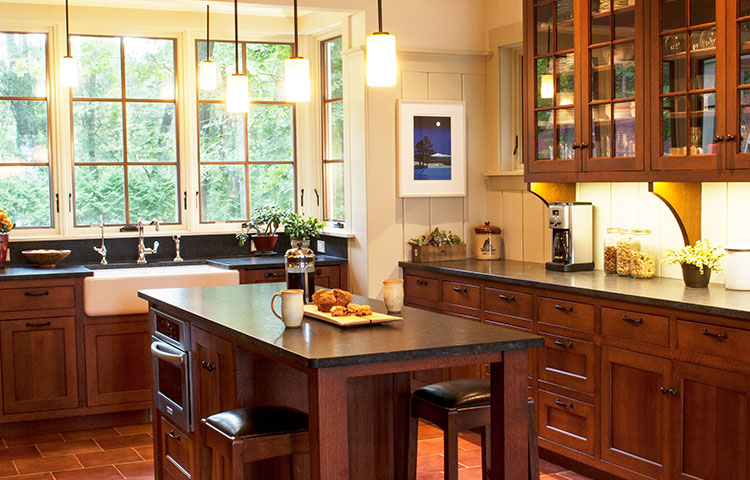 This elegant kitchen is full of Craftsman details including a custom cut in farmhouse sink, full mullion glass doors in upper cabinetry to highlight homeowner's beautiful glassware and pottery, corbels beneath all the upper cabinetry, and of course the stained quarter sawn oak for the cabinetry. More Pictures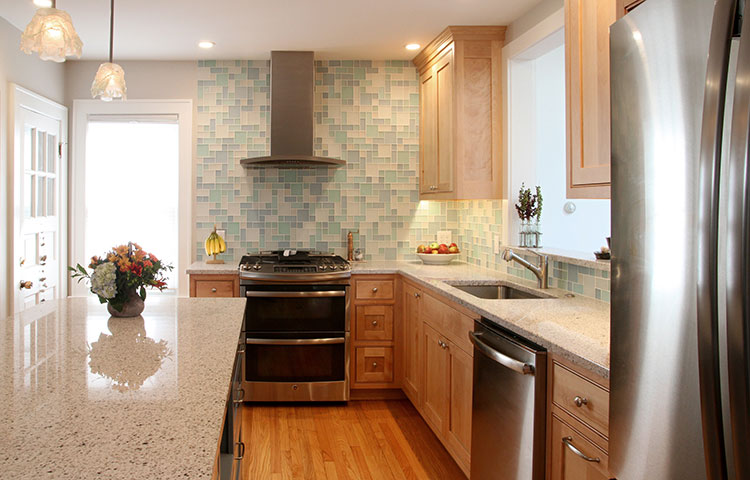 This small kitchen took home the silver in the Best Kitchen under 150 sf category at the Home Builders & Remodelers Association Awards. While space was an issue, functionality was essential for this family of five with three growing teenagers. More Pictures
Blues and whites bring the sparkling colors of Lake Champlain into this custom white kitchen. More pictures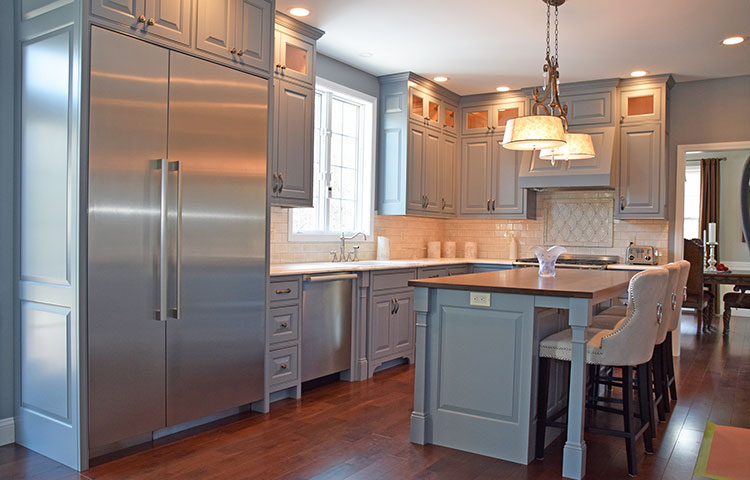 Grey is the color of the year for a reason - it is gorgeous! Raised panels, flush inset refrigerator/freezer, columned legs at island and sink, box feet and lit upper cabinetry make this kitchen one of our most beautiful showpieces. More Pictures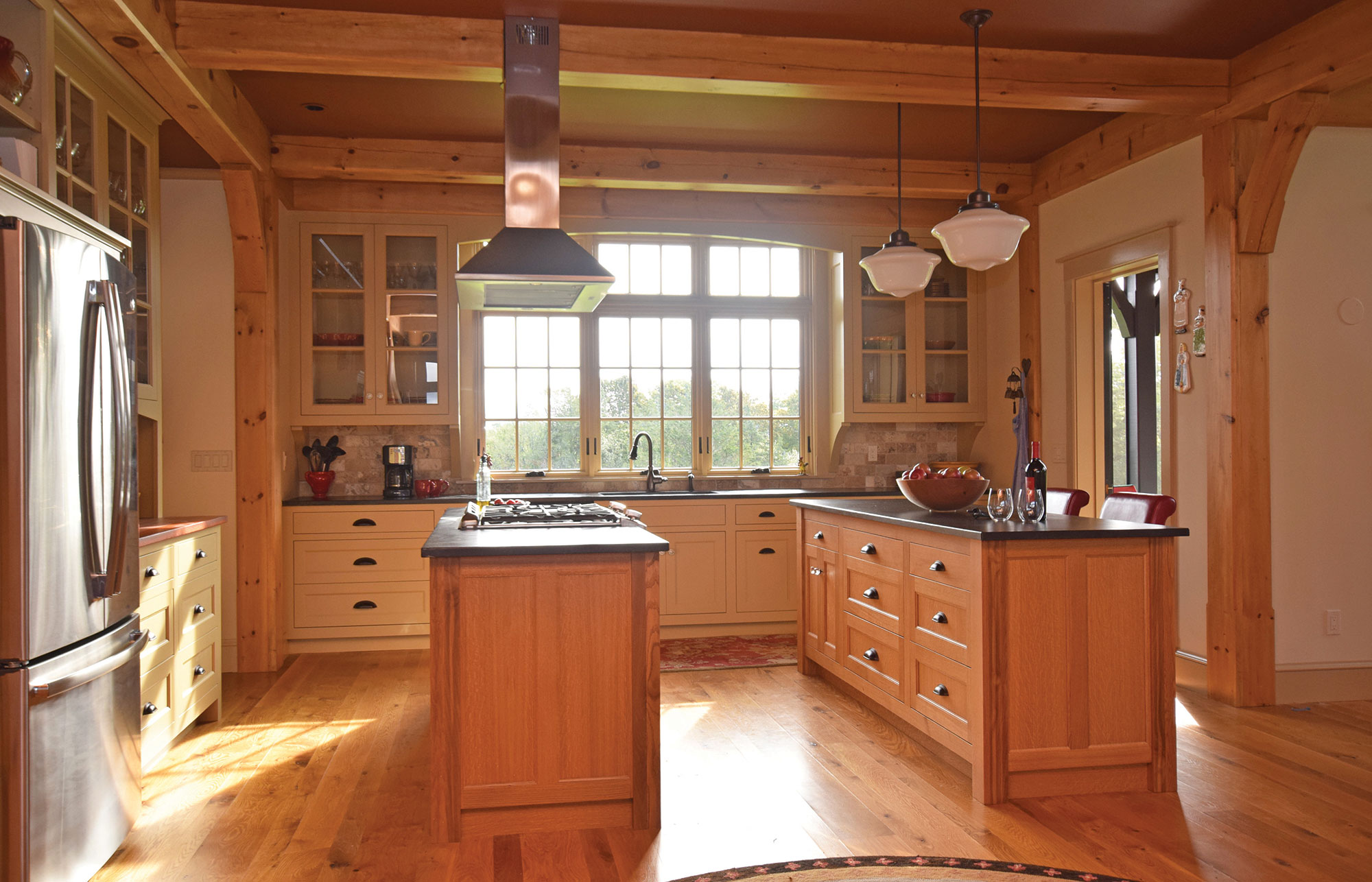 Natural wood islands and a beautiful painted finish on the surrounding cabinets combine to create a truly elegant kitchen in this post & beam home. More pictures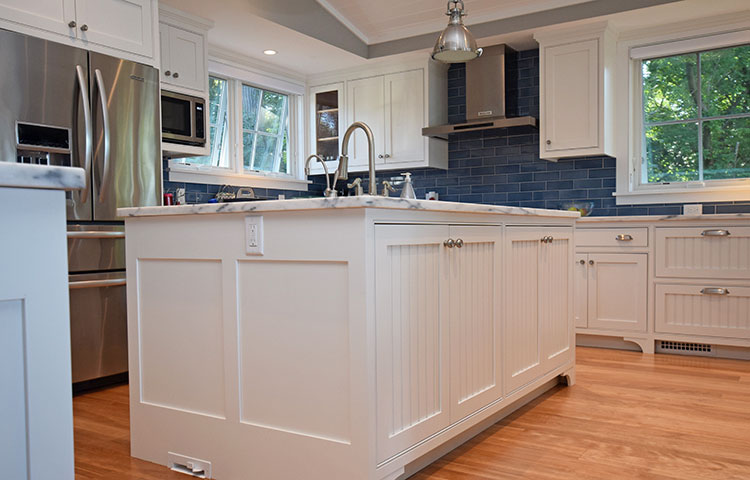 Beadboard panels make this kitchen light and airy for family lake house - More Pictures
Horizontal boards at back and sides of island give this traditional kitchen a modern flair. Custom tinted stain achieves perfect tone and hue for warm wood. More Pictures
Named "Kitchen of the Year" by the Home Builders and Remodlers Association, this bright kitchen has clean lines, multi-planar depth, and a gorgeous pop color in the island. More pictures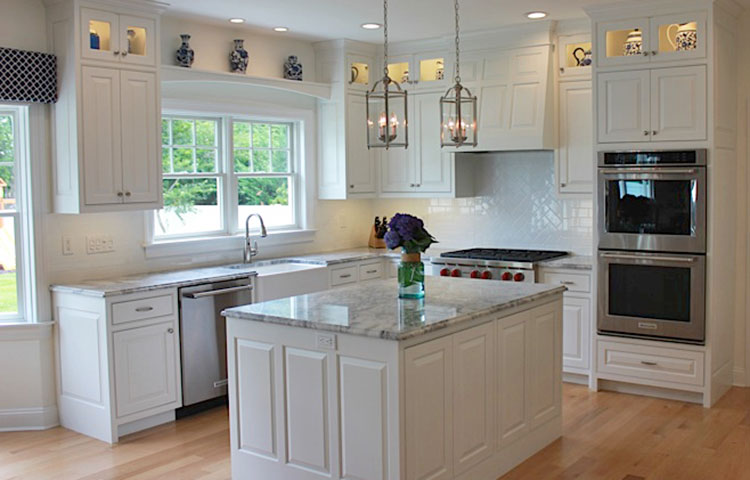 Located on Long Island, this kitchen combines crisp white with navy blue to give it a coastal feel. The pure white cabinetry coupled with the glossy white backsplash and lit cabinets to display their navy and white ceramics make this kitchen a showpiece for this coastal home. More Pictures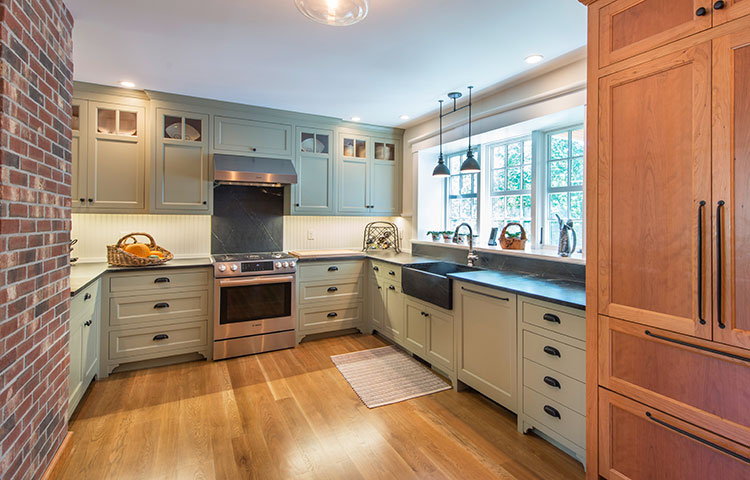 Combination of cherry and painted cabinetry enhance this historically accurate kitchen remodel. Custom appliance panels hide dishwasher and fridge behind beautiful wood. More Pictures
This elegant white kitchen brightens the entire house. With a 17' long island there is plenty of room for family and guests to enjoy the space. More Pictures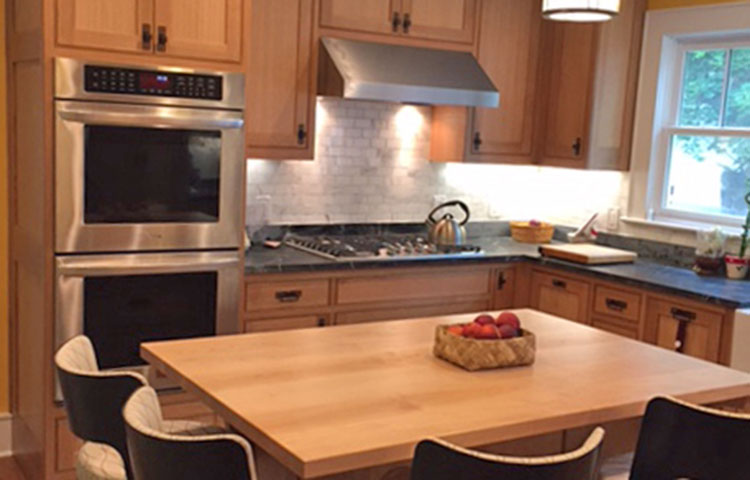 This renovated craftsman style home brings in classic craftsman details through its quarter sawn oak cabinetry coupled with the painted hutch. More pictures
Maple slab fronts and a rounded peninsula give this kitchen a modern, clean flair. - More Pictures
Large family means a large kitchen - with pass through to dining room and separate beverage area for entertaining. More Pictures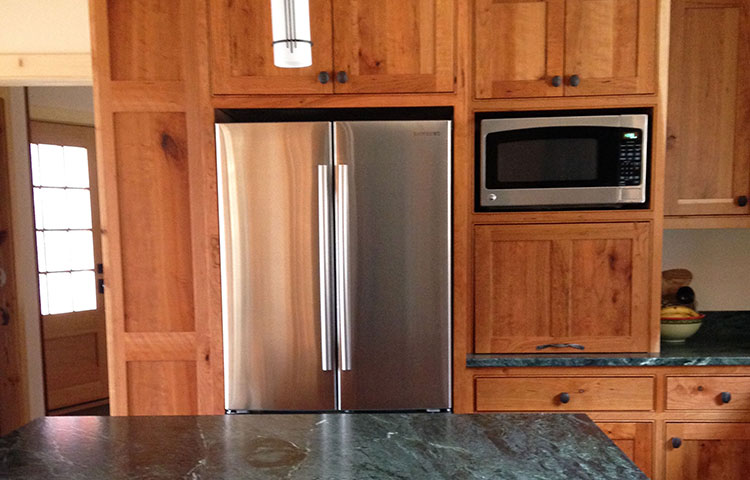 The rustic cherry used for this kitchen cabinet project is full of rich knots and grain, just what the homeowners wanted for their rural Vermont farmhouse. More Pictures
Distressed island and thick wood top add function and beauty to kitchen. More Pictures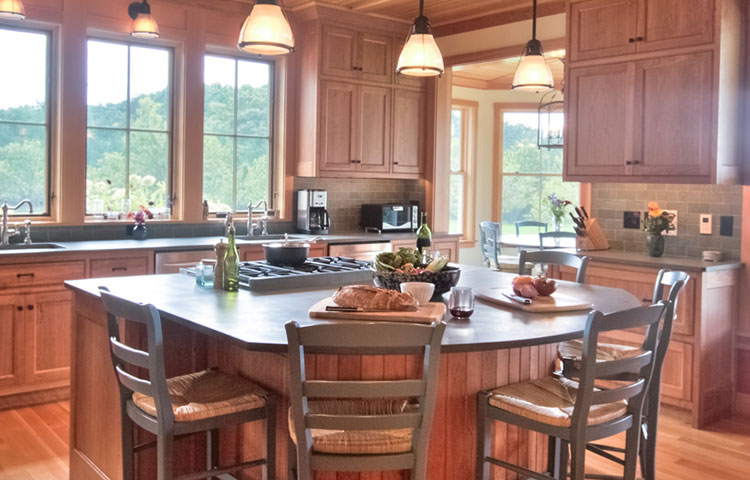 Bringing the outside in, this kitchen's warm wood tones on most surfaces enhance the gorgeous ample views of the forest outside. More Pictures
Free Look Book!
Sign up with your email address to get your copy.